We have recently added a new tool into the booking engine where you can check reasons your rate would not be showing.

If you click on the green question mark under the web button on the rate you are querying

You will then see a screen like the below with the rate information, you will need to then enter the dates you were searching where the rate wasn't appearing as available and the amount of nights and then click "Check"

Once you have clicked "Check" it will return the results of the search,the below image show's where the error is flagged this image the rate isn't available on the website channel and the rate is suspended. Under each error you will be given some information on how to resolve the issue if you need to.

In this image the rate is not marked as publicly available and the rate is protected by a promo code, again information is displayed under the error if you wish to make changes.
This error explains that the rate is only available on desktop devices so will not be displayed on mobiles.
Some rates are set up to only allow check-in on specific days of the week, the error below shows that Tuesday is not a valid check-in day for this particular rate and again explains how to change this if you wish.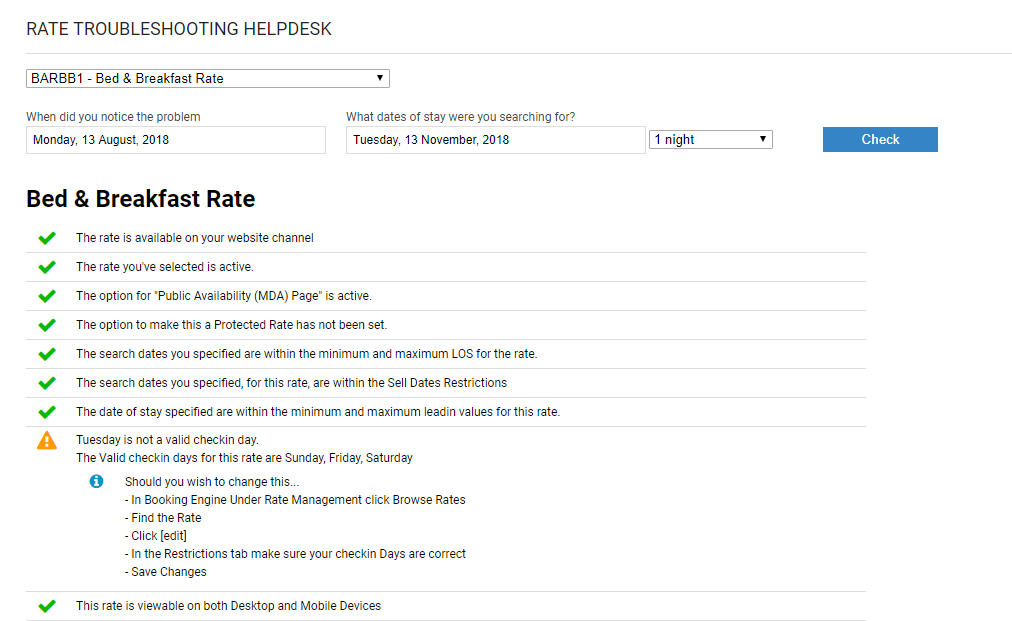 It also checks to see if you are within the Max and Min Leadin time aswell as Max and Min LOS, again if you wish to make changes to this the instructions on how to do so are below the error.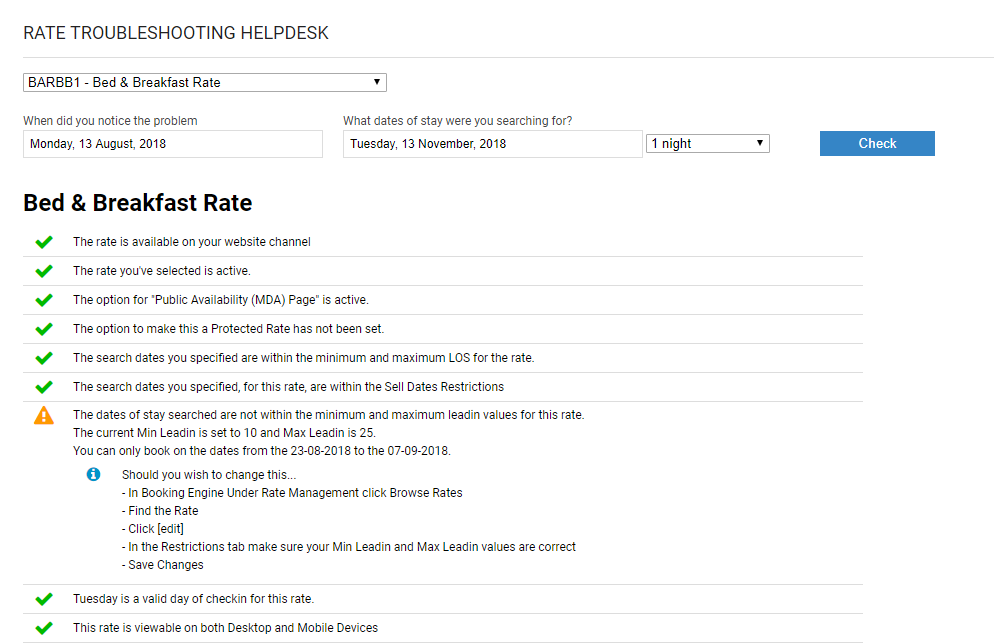 If a sell date restriction has been added to the rate and it is stopping the rate from appearing as available you will see the below error.

The search query results are split up into 4 different categories.

In this case all rooms are showing as not available on the specific date I searched so you will need to refer to the breakdown to see the error and instructions on how to fix it if you need to.


Room Availability this will show you how many of each room type are available in your inventory manager for that specific date searched.


Pricing Data shows if there is pricing for each room type on the dates searched. If there was no pricing on the system then the green tick would be replaced with a red x.


Rate Restrictions, if there is any restrictions added to the rate on the particular date searched it will be displayed here.

This tool can be used for any rate's that aren't showing on a specific date or date range.