What is the Thumbs up symbol?

The Thumbs up symbol that you see on the rates shows the "Sales Message" entered on the rate description when the guest hovers over it.

The Thumbs Up symbol will only appear when text has been entered into Sales Message box for your rate in the rate editor.
Here's an example of the thumbs up symbol

To enter the sales message on the rate description follow these steps:
1. Go into the Booking Engine Service
2. Under Rate Management click Browse Rates.

3. Click edit on the rate you want to enter a sales message
4. On the General Tab under Rate Sales Messages enter the Sales Message you want to show on the thumbs up symbol.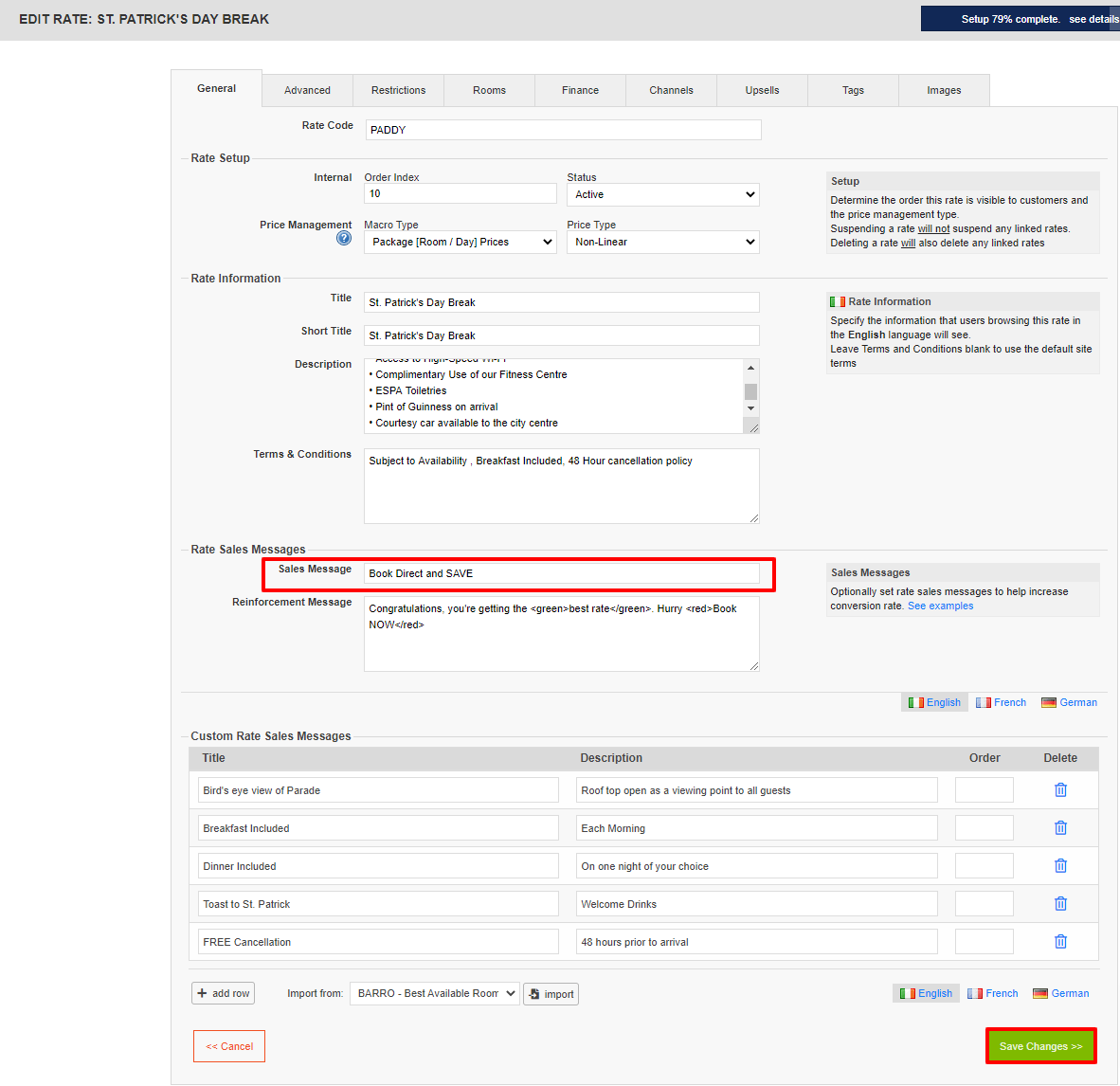 5. Save Changes
The sales message will now show when a guest hovers over the thumbs up symbol beside the rate.
Related Articles

What is the Star symbol for?

The star symbol beside rates on the booking engine is for making rates "Preferred Rates". To learn more about setting up preferred rates click here

What does the yellow triangle / warning symbol do or mean in the Inventory Manager screen?

Sometimes in the Daily Inventory Manager screen, you might see a yellow triangle to the left of the individual rates. This means that you have 0 inventory available for the room(s) beside the symbol on the date you are viewing.

Concurrent Flash Sales

It is currently only possible to have one flash sale running at a time.

Can I run a report on Flash Sales ?

Flash Sale Reporting To help hotels better assess the effectiveness of these campaigns, we have now made it possible to track and report on reservations made during flash sale periods. To do this go to the Insights tab and run a Room Reservations ...

What does the star mean in the inventory manager?

Sometimes when you are on the Manage Daily Inventory screen, you might notice the following symbol to the left of the date. This means that there are one or more restrictions applied on those dates the star is beside. If they are House Restrictions ...