INTERNAL RATE CODE


An internal rate code is a unique identifier for a rate in Avvio. Any given rate code can only exist once on your site. This will appear on all rates regardless of whether you are integrated with a third party or not. You can view all your internal rate codes by doing the following

1. Go into the Booking Engine Service

2. Under Rate Management click Browse Rates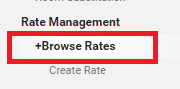 3. Your internal rate code is shown as below


4. If there are 2 rate codes showing, the internal rate code is the one on the left. The right hand side code is the external rate code. This will often be the same as the internal code, but may differ sometimes


5. You can change the internal rate code by clicking Edit on the rate


Then changing the value in the Avvio Rate Code box


Always remember to hit Save Changes after making any changes.
EXTERNAL RATE CODE


An external rate code is an identifier used when your Avvio site is interfaced with a third party, such as a PMS or Channel manager. If you are attempting to sync your rate on Avvio with a rate code on your PMS / Channel Manager, you would enter your PMS / Channel Manager code for this rate in the External Rate Code box on Avvio. This will enable reservations / pricing to sync seamlessly between Avvio and your PMS/Channel Manager.


Note: This can be useful for example if you want reservations from 2 rates in Avvio to sync back to 1 rate in your PMS / Channel Manager.

To view your external rate code use the same process as above

1. Go into the Booking Engine Service

2. Under Rate Management click Browse Rates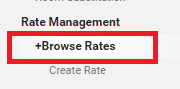 3. The right one is the external rate code. This will often be the same as the internal code, but may differ sometimes


If you want to update your External Rate Code please email support@avvio.com