What does the star mean in the inventory manager?
Sometimes when you are on the Manage Daily Inventory screen, you might notice the following symbol to the left of the date.

This means that there are one or more restrictions applied on those dates the star is beside.
If they are House Restrictions you will see the restrictions under the "Restrictions" heading beside the Day. If there are more than House Restrictions applied you can quickly check by clicking on the magnifying glass:
This will bring up the Inventory Preview where you can see all restrictions applied.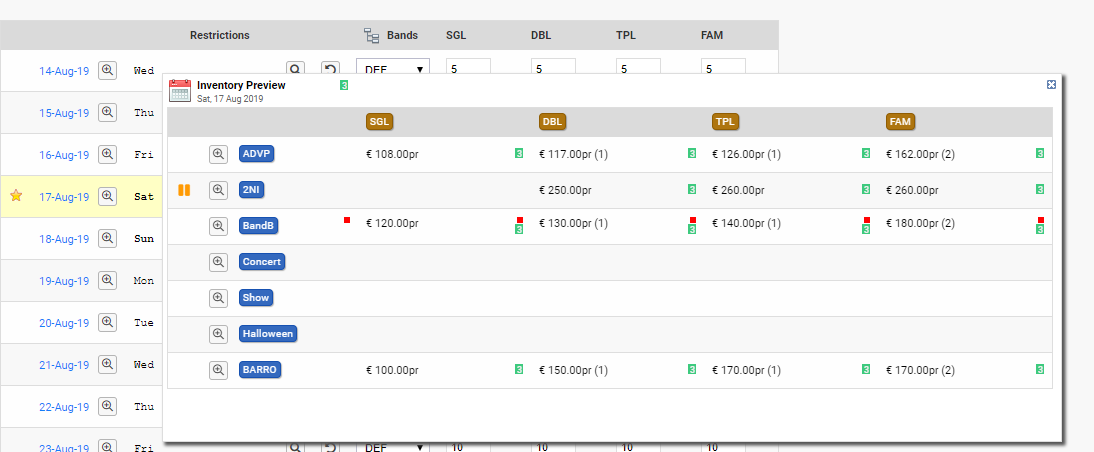 To learn more about Restrictions click here.
Related Articles

What does the yellow triangle / warning symbol do or mean in the Inventory Manager screen?

Sometimes in the Daily Inventory Manager screen, you might see a yellow triangle to the left of the individual rates. This means that you have 0 inventory available for the room(s) beside the symbol on the date you are viewing.

How do I check what my inventory is for a certain day ?

If you wish to see what inventory you have for a specific date, you can you the Manage Daily Inventory Screen 1. Go into the Booking Engine Service 2. On the Left-Hand Navigation, under Daily Inventory, click Manage Daily Inventory 3. This ...

How do I update Inventory for a specific date?

If you wish to update your inventory for a specific date on Avvio, follow the below steps: Note: If your rates are externally managed by a PMS or Channel Manager, then inventory will need to be sent from that system. The below functionality will not ...

Why is my rate band blank in the Inventory Manager?

If your Rate Band is not set on a particular date in the Manage Daily Inventory screen there could be several causes. (For more information on Rate Bands, click here.) 1. First thing is to check that you have the Rate Band(s) set up correctly. If ...

How far out can I set inventory ?

On Avvio, you can set Inventory and pricing for 18 months in advance. However, some PMS / Channel Manager integrations may some limitations where they can only send 12 months in advance to Avvio. To find out how to set up Inventory click HERE