The following is an overview of the Rate Editor -Restrictions Tab, highlighting
what each option represents and where it displays on the consumer facing side of the booking engine (if applicable).
Restrictions Tab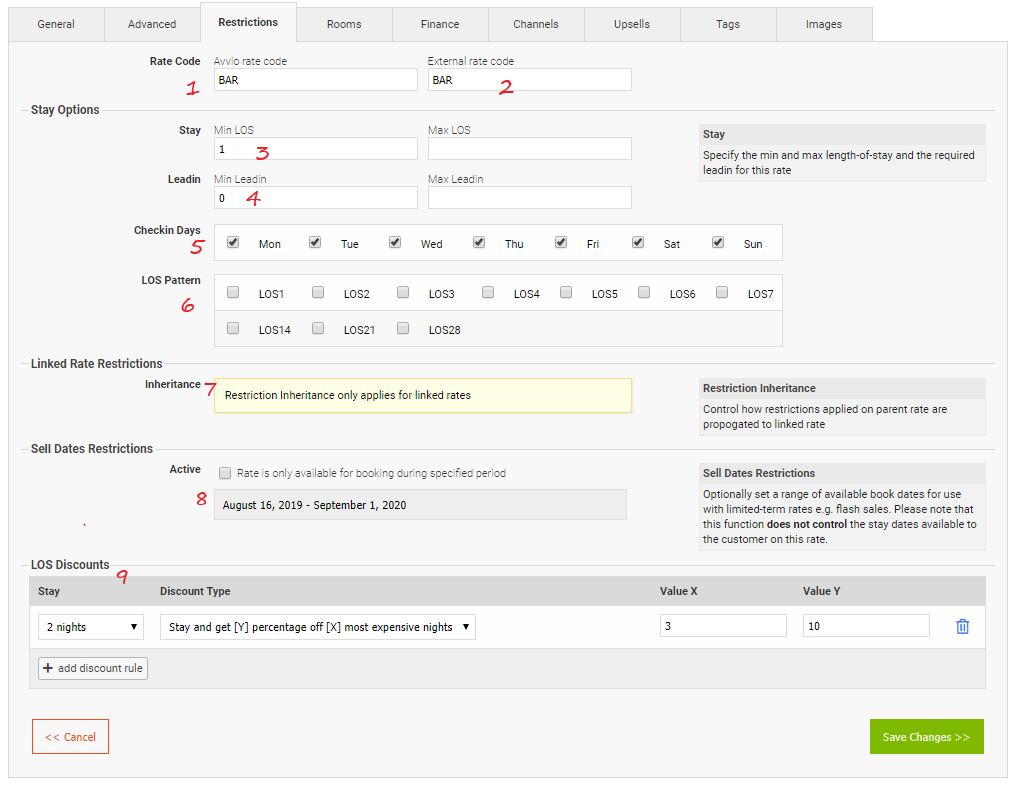 1. Avvio Rate Code - All rates set up on Avvio must have a valid Rate Code, you can only have one rate per rate code.
2. External Rate Code - Any rate that is being managed by an external interface needs to have an external rate code set up on it.
More information on Internal and External Rate Codes HERE
3. Stay - This is where you set your Min & Max length of stay for this particular rate. If for example you enter 2 in the Min Length of stay, it will force the customer to book for a minimum of 2 nights and if you enter 4 in the Max Length of stay, it will only allow the customer to book up to 4 nights and nothing more. This is used for package type rates. If your rate has no min or max LOS restrictions, then please keep the default Min LOS value as 1 and Max LOS as blank.
4. Leadin - This is where you set your Min & Max Leadin for this particular rate. If you enter a Min Leadin of 7 then the rate will only show for checkin at least 7 days in advance. This is primarily used for Advance Purchase rates. If you enter a Max Leadin of 14 days it will only show for dates up to 14 days in advance.
5. Checkin Days - This is where you can limit what days of the week checkin is allowed for this particular rate. It would be used for Midweek special rates where you don't want the customer to checkin on the weekend.
6. LOS Pattern - If you tick a LOS pattern it forced the customer to book this stay pattern on the rate.
7. Linked Rate Restrictions - Controls how restrictions applied on parent rate are propagated to linked rate, Only for restrictions applied through the restrictions manager or sent across via your PMS/Channel Manager.
8. Sell Date Restrictions - Optionally set a range of available book dates for use with limited-term rates e.g. flash sales. Please note that this function does not control the stay dates available to the customer on this rate, it only controls the date where the rate is available to book, not checkin. Leave this box unticked if you have no sell date restrictions.
9. LOS Discounts - Length of Stay (LOS) Discount is a feature that allows you to apply "Stay and Save" Discounts to a rates. This saves you having to create multiple rates in order to apply a discount.
Click "Add Discount rule" to create a new rule for LOS discount.
More information on how to Add a Length of Stay Discounts click Here