The following is an overview of the Rate Editor -Advanced Tab highlighting what each option represents and where it displays on the consumer facing side of the booking engine (if applicable).
1 - Go to the Booking Engine and Create/Edit Rate

2 - Click on Advanced tab.


Advanced Tab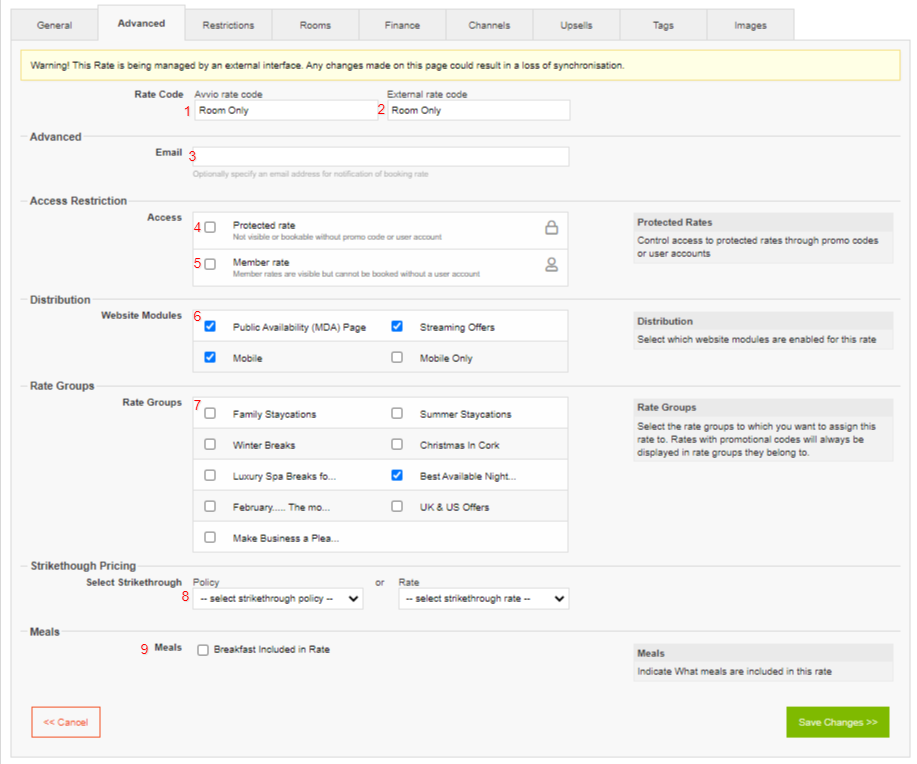 1. Avvio Rate Code - All rates set up on Avvio must have a valid Rate Code, you can only have one rate per rate code.
2. External Rate Code - Any rate that is being managed by an external interface needs to have an external rate code set up on it.

More information on Internal and External Rate Codes
HERE
3. Email - Optionally add an email address here and this address will get notifications of all bookings for this rate. However, if you want the default notification email address to be used, you can leave this box blank.
4. Access - If you want the rate to be protected/hidden (i.e. only accessed via a promo code or username/password entry) , then you would tick this box. More info on Protected/Hidden Rates HERE

5. Access -
Unlike protected rates which require a user account or promo code to be seen, member rates can be displayed just like any other rate but the user is required to login or otherwise authenticate before they are able to book. More info on Member Rates HERE
6. Distribution Website Modules - This is where you select which modules the rate will be available on. You can select more than one option.
Public Availability (MDA) Page- The rate will be visible to on the Search Results page on the Booking Engine.

Mobile - Tick this to make the rate available on mobile devices

Streaming Offers - Tick this to make the rate will on the Streaming Offers pages of Avvio CMS sites (if applicable to you)

Mobile Only - Tick this box to make the rate ONLY appear on Mobile Devices
7. Rate groups - Optionally select the rate groups to which you want to assign this rate to. You can add a rate to more than one group. You can also do this in via the Rate Group editor at a later stage if you wish. Rates with promotional codes will always be displayed in rate groups they belong to.

8. Strikethrough Pricing - If you want Strikethrough Pricing to be shown on your rate you can either set it up to pull from a Strikethrough Policy or to pull from another rate set up on Avvio. The Strikethrough will only show if the Policy or Strikethrough Rate are more expensive than the rate being set up and the rate you are comparing it against has the same price type.

9. Meals - If this box is ticked then the below message will appear on the rate.