Flash Sale Multiple Discounts
It is now possible to configure a flash sale to allow for up to 5 discount policies that can be applied on different dates.
Each discount policy can have the dates on which the policy applies independently selected. To restrict the dates of a particular discount policy as part of the flash sale, select that policy from the list on the left-hand-side and select the dates on the calendar.
The currently selected dates are displayed on the calendar in different colors associated with the discount policy.
If no dates are selected for a discount policy within a flash sale, then the policy will apply for all dates of stay.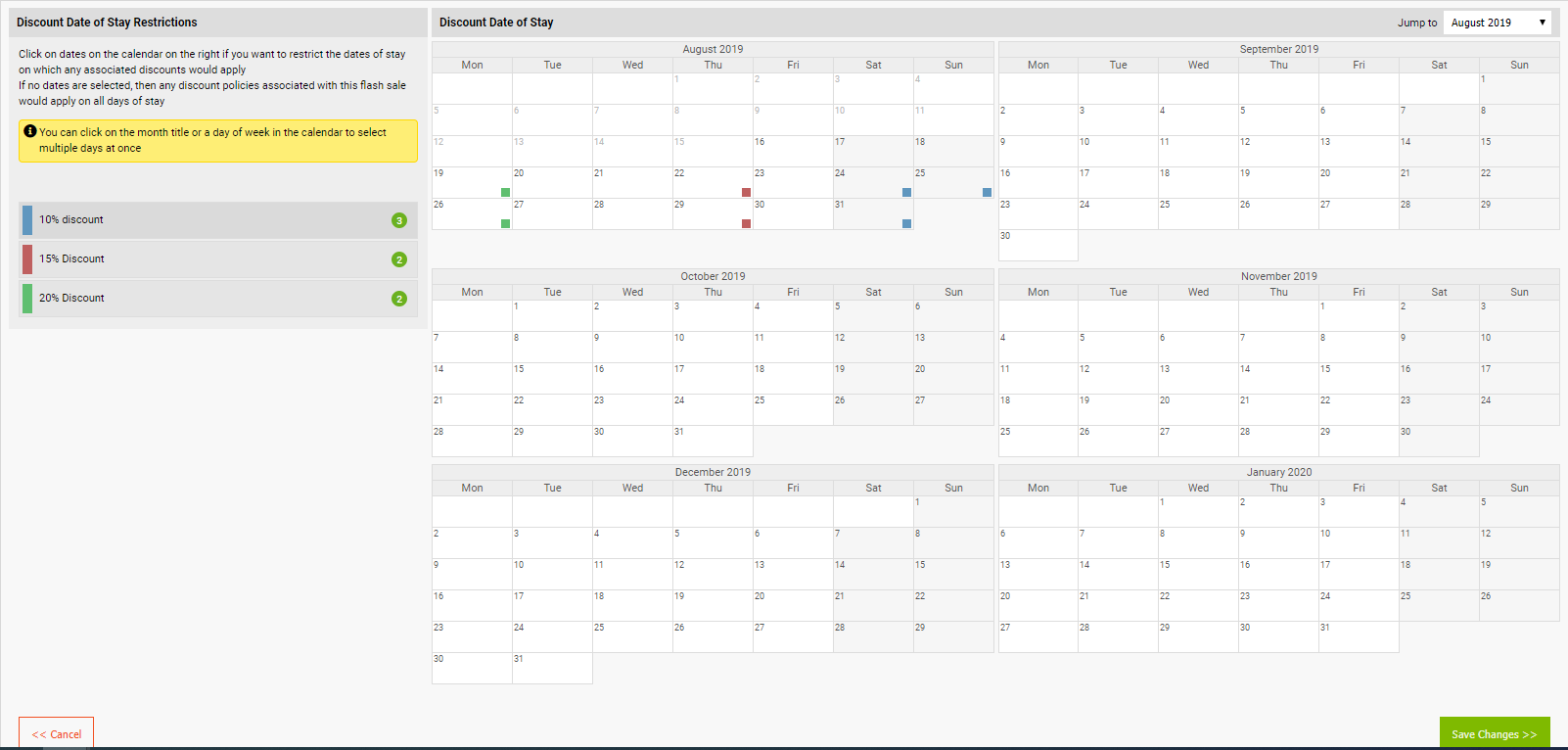 Related Articles

How to set up a Booking Engine Flash Sale

It is possible to finely control the discounts available on Flash Sales. Flash sale discounts can be restricted to a subset of rates, rooms, and dates. Creating a Flash Sale Select the 'Flash Sales' menu item under the Rate Management section of the ...

Concurrent Flash Sales

It is currently only possible to have one flash sale running at a time.

Can I run a report on Flash Sales ?

Flash Sale Reporting To help hotels better assess the effectiveness of these campaigns, we have now made it possible to track and report on reservations made during flash sale periods. To do this go to the Insights tab and run a Room Reservations ...

Fixed Priced Discounts

Fixed Priced Discounts allow you to configure Discount Policy and Flash Sales that offer fixed amounts off the total room price in addition to the percentage discount functionality. Discount Policies When creating a Discount Policy, select the 'Fixed ...

Can I add a Promo Code to a Room type?

Room Sale - Promo Codes With existing promo codes on Discount Policies, it is only possible to provide discounts on specific rates and it is not possible to include/exclude certain room types. To allow for room-specific promotions It is possible to ...