Deleting Cancellation Policies

It is possible to delete cancellation policies which do not have any assigned rates within your booking engine.
Under Booking Engine Site Setup select Cancellation Policies within the left-hand navigation.

Select any policies that you want to delete
.
Select the
Delete Selected Policies
button at the bottom of the list.

Note: You will not be offered the option to select policies for deletion if all your policies have rates assigned. At least one policy much have no mapped rates for this to be available.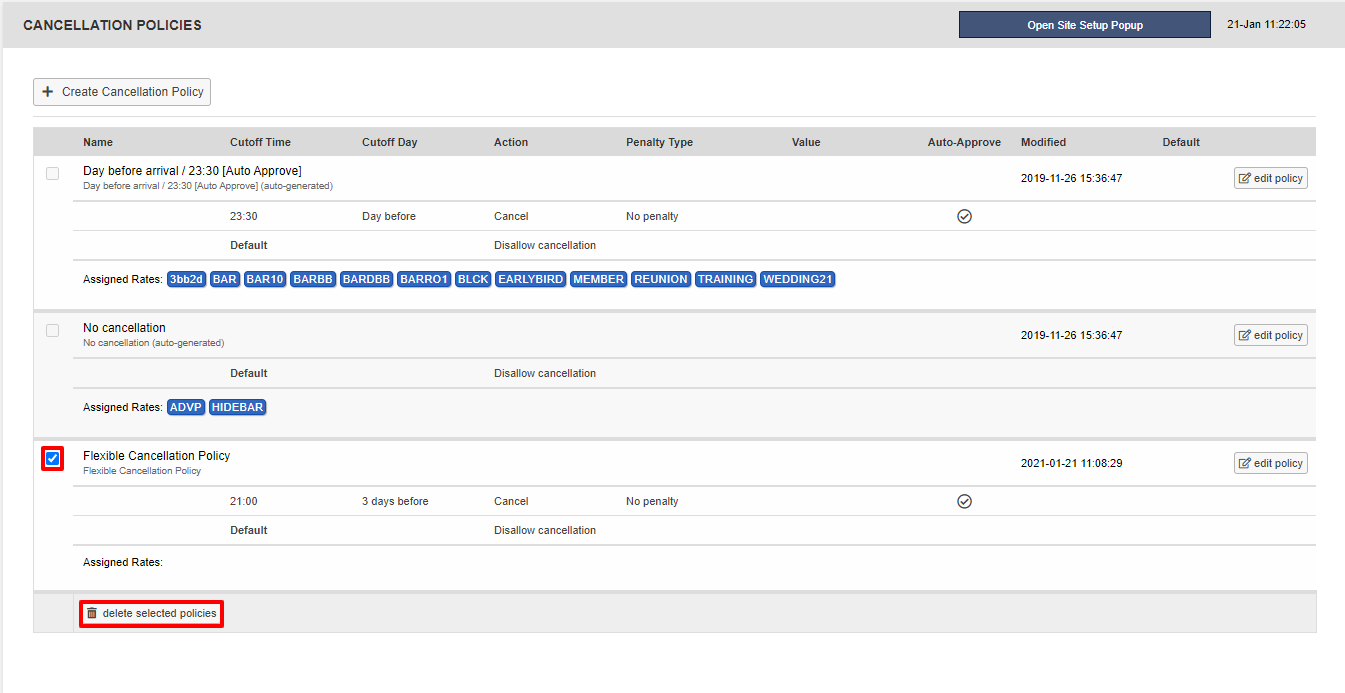 Related Articles

Cancellation Policies

Instead of manually inputting the cancellation cutoff on a per-rate basis, you can map rates to customizable cancellation policies. Cancellation policies also allow you to set multiple cutoff times or implement penalties for late cancellations. Once ...

How to set up a Cancellation Policy

Instead of manually inputting the cancellation cutoff on a per-rate basis, you can map rates to customisable cancellation policies. Cancellation policies also allow you to set multiple cutoff times or implement penalties for late cancellations. To ...

How to add Privacy & Cookie Policies

A Privacy Policy is mandatory under many privacy laws. And under the GDPR, it's one of the most important documents your company has. It's the only way to demonstrate to your customers, and to the authorities, that you take data protection seriously ...

Cancellation Reasons

From now on, during booking cancellation process every customer is able to choose from a drop-down reasons for cancellation. When a customer provides a reference number and email address during the cancellation process a dropdown for Reasons for ...

Cancellation Dashboard

A cancellation dashboard is available in Insights to provide a high-level overview of cancellation patterns at your property. Cancellation Trend The trend in cancellation rate by month for the last 24 months and next 6 months. Cancellation Profile A ...