This article contains a full overview of the Booking Engine Edit Site Profile tabs. We have also recorded training
videos
with additional detail for new users or anyone looking to upskill on this section. Click here to view.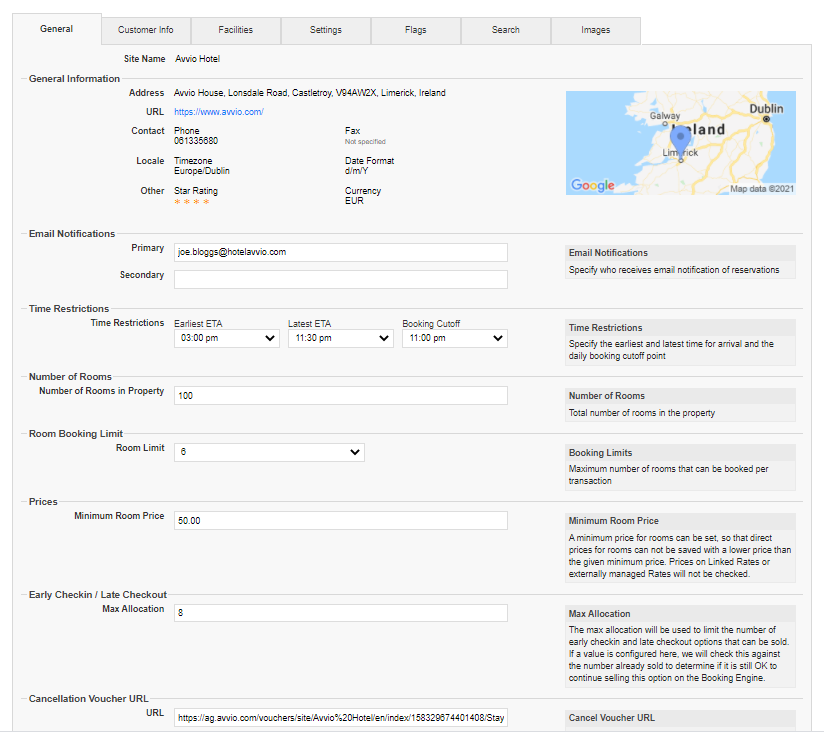 General Information
-
Here you will see the hotel Address, URL, Phone Number, Timezone, Date Format, Star Rating, and Currency. (None of this information is configurable by the hotel, please contact Avvio if you need to update any details here.)
Email Notifications
- You can specify who receives email notifications for reservations, modifications, and cancellations. You can add 2 email addresses here.
Time Restrictions
- Here you can specify the Earliest ETA and Latest ETA (which will show on confirmation emails) and a Booking Cutoff (the latest time a person can make a reservation for check-in on the same day)
Number of Rooms
- Here you can add the total number of rooms at your property. This is for internal reference and will not be displayed to shoppers.

Room Booking Limit
- This is where you can add the maximum number of rooms allowed per booking.
Prices
- Here you can add the minimum price you would be willing to sell any room at your property. Direct prices for rooms can not be saved with a lower price than the price stated here.
Prices on Linked Rates or externally managed Rates will not be checked
.

Early Checkin /Late Checkou
t - The max allocation will be used to limit the number of early checkin and late checkout options that can be sold. If a value is configured here, we will check this against the number already sold to determine if it is still OK to continue selling this option on the Booking Engine.

Cancellation Voucher URL
-
The feature will ease the burden of unprecedented levels of cancellations by incentivizing guests who want to cancel a booking to purchase a voucher, at a discounted rate, for a returning visit in the future.
Click here for more detail on Guest Retention Vouchers.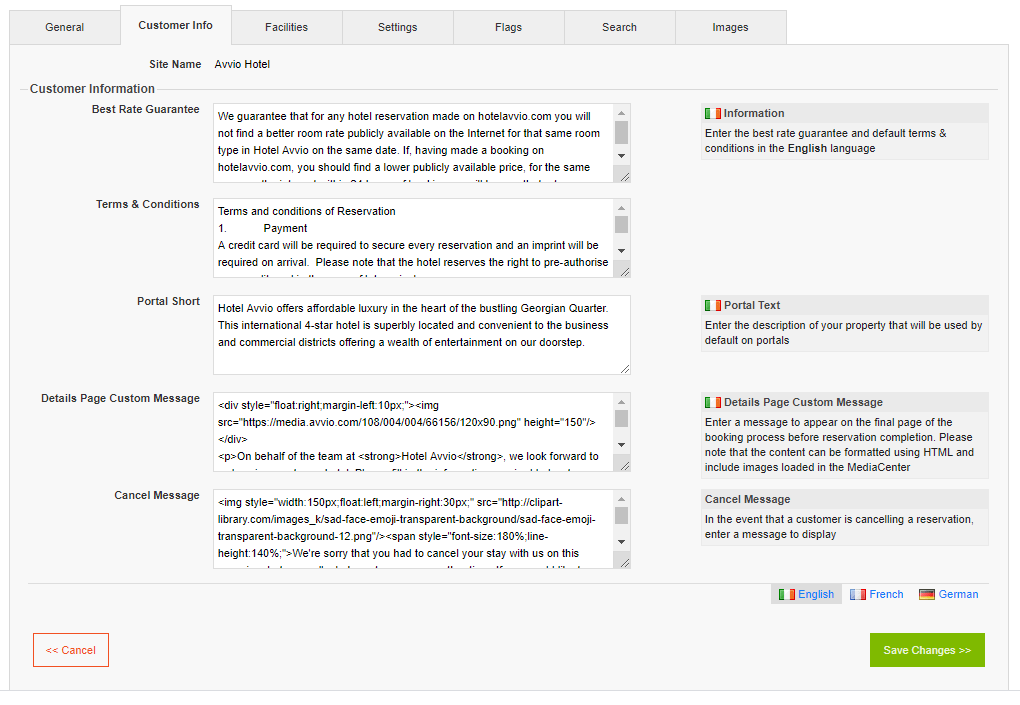 Best Rate Guarantee -
The full message entered will display on the Booking Engine when you hover over the corresponding icon as seen here:


Terms & Conditions -
this is the hotel T&C and will display on the 'Book' page and the Avvio Confirmation Email that a customer receives,
Portal Short
- this message will appear as a description for your property on Portals or if you have Partner Selling enabled.

Details Page Custom Message -
this is a configurable personalized message that you can add to the 'Book' page where the shopper completes the reservation detail.

Cancel Message
- you can add a customized message regarding cancellations within this box that will appear on the screen after the guests confirm the cancellation. We encourage properties to use this to promote
Guest Retention Vouchers
.
Facilities
- Here you can specify which facilities are available at your property. You must select at least 5 facilities to achieve the Site Score here.

Avvio will action this section on your behalf.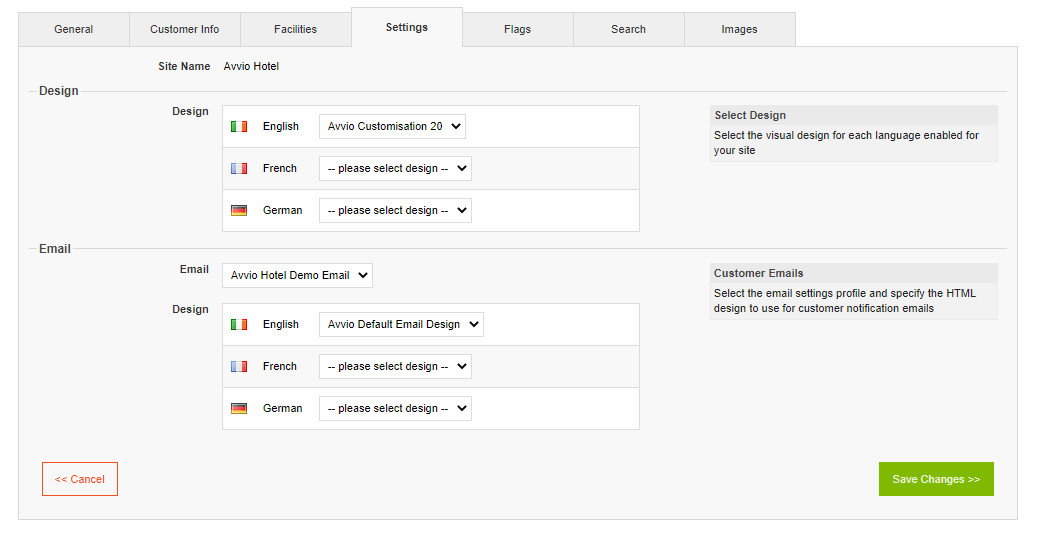 Design
- This is the visual design of the booking engine and can be added to each language available on the Booking Engine.
Email
- this will be the hotel email profile.

Email Design
- This is the HTML design used for customer emails, it can be added to each language available on the Booking Engine.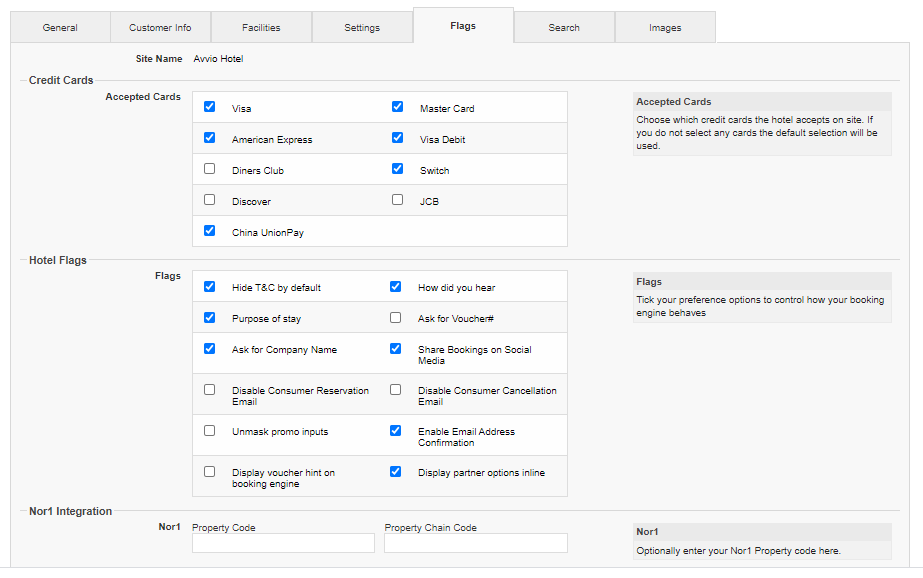 Credit Cards
- Here you can choose which credit cards the property accepts. If you do not choose any then the default section will be applied. Be sure to only accept cards that either your Payment Gateway or terminal in the property can accept.

Hotel Flags
- You can select the options here and this will control how your Booking Engine behaves:
Ask for Voucher # -
this allows you to add a 'Voucher Code' free-text box to the guest details page to indicate to the property that a shopper intends to use the voucher number entered on payment at the property. The voucher will not be redeemed online, it is for information only.
Share Bookings on Social Media
- if selected, once a reservation has completed, the option to share the property details on social channels is included on the booking confirmation screen.


Disable Consumer Reservation Email -
read more
Disable Consumer Cancellation Email -
read more
Unmask promo inputs
- this will allow a shopper to see a PROMO code as it is typed and not an encrypted version.

Enable Email Address Confirmation - require customers to confirm their email address on the 'Book' page by re-entering it. With the option enabled, customers must enter the same email address twice in order to proceed with the booking.

Display voucher hint on Booking Engine -
read more
Nor1 Integration
- Optionally enter your Nor1 Property code here if applicable.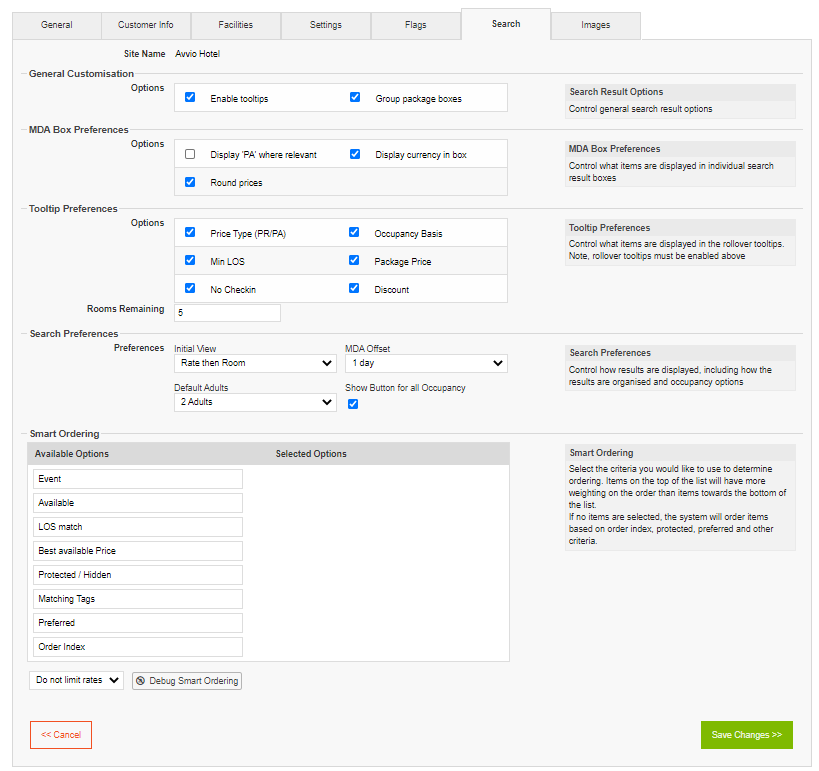 General Customisation
- Here you can control the general search result options
Enable Tooltips - this is recommended. If selected, a pop up will appear with informative detail when someone hovers over a specific date within the MDA screen as seen here:


Group package boxes - if enabled, when someone hovers over a date on a multi-night Package rate it only shows the total package price or price for the package based on that check-in date.

Enabled view:


Disabled view:


MDA Box Preferences
- You can control what items are displayed in individual search result boxes.
Display 'PA' where relevant - no longer valid, ignore selection.

Display currency in box

Enabled view:



Tooltip Preferences
- Control what items are displayed in the rollover tooltips. Note, rollover tooltips must be enabled above. Best practice would be to enable all.
Rooms Remaining - Allora will start displaying the number of rooms remaining in the booking path when inventory levels for a visible room fall to the number entered:

Search Preferences
- Control how results are displayed, including how the results are organized and occupancy options

If your booking engine is not displaying in the same way as the options selected here, check to see if a Learning Model on Allora decided the result of that view instead.
MDA Offset
-
On Multi-day Availability (MDA) views, by default, the window of MDA dates begins one day before the specified check-in date. This is to show the user some context before and after their preferred dates of stay and to provide a broader view of availability.
This behaviour is configurable here and you can specify that the MDA window should begin on the check-in date specified or up to 2 days before. read more.
Smart Ordering
- You can select the criteria you would like to use to determine the ordering of Rates and Rooms to a shopper. Items on the top of the list will have more weighting on the order than items towards the bottom of the list. Read more.

Avvio's recommendation is to leave the default order in place for Smart Ordering as this is based on a best-practice algorithm.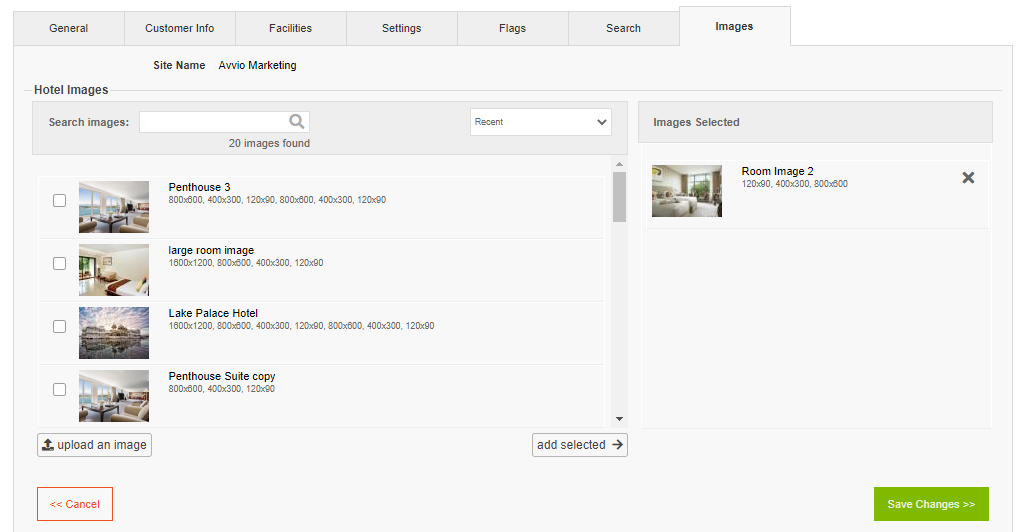 You must add an image here Choose a strong image that best represents your property.

If applicable, this image will be displayed on any portal site you are listed on and also across Partner Selling.